Astronautalis
WED SEP 17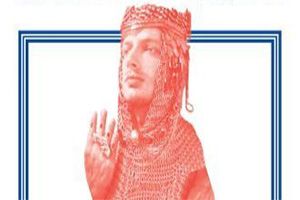 / OFFICIAL WEBSITE / TWITTER / FACEBOOK
Once you find out that Astronautalis was born to a Texas train man with a nose crooked from bar fights and a pretty Kentucky girl who ran away from home at 17 to become a photographer, it becomes clear that he didn't stumble into the life of a drifter, he was born into it. With a poet uncle who lived off horse betting and hitchhiking, grandfathers who were spies, sailors, and test pilots, and over 500,000 miles of touring under his own belt, you have to wonder where the tales in Astronautalis' music end and the life of Andy Bothwell begins. Currently settled (for now) in Minneapolis, by way of Seattle, by way of Dallas by way of Jacksonville Beach, FL; Bothwell has spent almost every waking moment of the last 7 years, on the road, playing shows, earning scars, collecting/giving tattoos, grinding out a cult like fan base, and living up to his proud, storied, and whiskey soaked blood line.
Having started in music over 15 years ago as a battle rapper, Astronautalis' roots are planted firmly in hip-hop. However, the sounds and styles on his albums are an animal not so easily caged, and his latest release, "This Is Our Science" is no exception to that tradition of wild genre bending. Like previous records Bothwell uses that limitless approach to aid in his vivid storytelling, but where "This is Our Science" takes a turn from tradition, is in the subject matter itself. While previous records read like historical fiction, documenting the lives of the bygone, the footnotes, and the forgotten, "This is Our Science" is pure autobiography. While there are flash references to scientists from the Age of Enlightenment and old dead French mountaineers, these ghosts serve merely as parallels, rest stops in the story of the last 7 years of Bothwell's romance with the road.
To help shape this memoir, Bothwell called in help from the cadre of musical friends he has made in his travels across 4 continents, and created a sound as diverse as the cast that behind it. Once again under the guidance of Grammy nominated producer John Congleton (Modest Mouse, Bill Callahan, St. Vincent), "This is Our Science" finds rock darlings like Tegan Quin (Tegan & Sara), Radical Face, (Electric President), members of Midlake & The Riverboat Gamblers all waltzing in time to the work of P.O.S. (Rhymesayers), Alias (Anticon/Sage Francis), Cecil Otter (Wugazi), Lazerbeak (Doomtree), and more of indie hip-hop's finest. The resulting album is the full realization of everything Bothwell has been chasing after for 7 years. Neither a rap record, nor a rock record, it is a work that finally captures the vein popping intensity and high melodrama of his famous live shows. All the while, maintaining the steadfast literary tradition and masterful storytelling of his previous studio albums.
From the pounding drums and thick synths of the record's opener, "The River, The Woods", the roots in rap are clear. But, that foundation quickly crumbles as the choir swells on the dark electronic gospel of the title track, "This is Our Science". After the banging funeral dirge of "Thomas Jefferson" (featuring Doomtree rapper Sims), the record blazes into the thick of Bothwell's vagabond life with heart breaking road ballad of "Measure the Globe". While songs like undeniably catchy, "Contrails" (featuring Tegan Quin) and the epic rock anthem, "Secrets On Our Lips" carry an astounding pop sensibility, there is something unnerving behind those big choruses and driving drums. In fact, there is something hiding behind every corner of this record, and much like the road Astronautalis traveled to make it, there is no map, no guide book, no way to prepare yourself, all you can do is press on forward and see what is waiting for you just around the bend.
Sarah Jaffe
Sarah Jaffe started work on The Body Wins the day she bought a bass and a drum set at a pawnshop. That day, she wrote the rhythmic "A Sucker For Your Marketing," and her second full-­‐length began to take shape. It had been building up inside her; she just didn't have an outlet. Jaffe had been writing songs on her acoustic guitar since she was a teenager. She knew everything she could do on it, and everything she couldn't do. It wasn't a creative tool for her anymore. When Jaffe first started playing guitar, everything was a discovery. Every chord she played, she thought she had made it up. Not knowing how to play bass or drums, but forcing herself to try, brought that back to her. And so there was "A Sucker For Your Marketing," a song she may not have been able to write before, but needed to. Maybe not that song, exactly, but Jaffe had pent-­‐up creative energy inside her, after spending most of the year traveling and touring behind her debut (Suburban Nature), seeing and feeling things, soaking up the world.
Transit
/ OFFICIAL WEBSITE / TWITTER / FACEBOOK
Taking chances is always easier said than done - musically, there's nothing quite like a risk taken to shine light upon an artist's growth from their former selves. Boston rock outfit Transit has stirred up a unique recipe for success throughout their career, packing one album after the other with fresh ideas. Their newest collection of stripped down tracks in the form of an EP, Futures and Sutures, showcases the group's collective ability to take on new concepts and come through flawlessly. Futures and Sutures features 5 musically revamped fan-favorites taken from Transit's previous two full-length records, plus a bonus instrumental track. 2013 also brought on the anticipated release of the band's full-length, Young New England, which debuted at #4 on Billboard's Heatseeker's Chart and was followed by a U.S. headlining tour. Young New England features a collection of Transit's signature punk-infused tracks with thoughtful lyrics tying together the overall theme of the album, the band's hometown of Boston. Composed of Joe Boynton (vocals), Tim Landers (guitar/vocals), Torre Cioffi (guitar/vocals), P.J. Jefferson (bass) and Daniel Frazier (drums), Transit formed in 2006, signing with indie label Rise Records in 2011. Transit's following has grown immensely over the past year alone, many thanks to their ability to move forward musically. This summer, the group took advantage of (hometown) Boston's lively nightlife and took excited fans along for a bar crawl to film a fun music video for the track "Young New England." The true power of the internet came to surface when an online post inviting people to be a part of the video shoot sparked interest from a girl to fly across the country from California into Boston to be a part of it all. Transit wrapped up 2013 in the strongest way possible, headlining a sold-out NYC show, embarking on a nationwide tour with Taking Back Sunday, and announcing their headlining role in 2014's Acoustic Basement Tour presented by Vans Warped Tour. For a band that treads a notably unique line between indie and alternative, one thing's for certain - expect the unexpected from Transit in 2014.
Stage
/ OFFICIAL WEBSITE / TWITTER / FACEBOOK
Steve Page, Stage, is a Canadian hip-hop artist born and raised in BC. Stage established himself as an emotive musician and vulnerable lyricist by hybridizing the politics of punk and the pain of truth. Influenced by the authenticity of underground, he skipped rapping about "blunts and cereal" all together, and focused on the more mature introspective side of writing, With just the right cocktail of raw and tender.

Steve's ability to permeate polarized genres of music and reach a diverse fan base has enabled him to remain real in an often-false industry. He has attempted to gain rappers' respect before mass appeal, resulting in "I am the jaded crowd" groupies. Stage has focused his addictive personality on music instead of poison, which contributes to his refreshing cold and wintery vibe, visceral as hot breath at the bus stop. Stage's two EPs and full album have a somewhat bipolar sound, ranging from melodramas to cartoony satires. When asked about his creative process, Steve admits that, "Skin against skeleton can be considered the theme for all my music. There's a common trope of personal battles and self hate. Being into the music that I'm into is like finger painting with seasonal affective disorder." -- Whatever that means.